Parents at a Church of England (CofE) primary school in Essex have been forced to withdraw their four-year-old children after the head teacher pushed confusing and harmful 'gender identity' lessons for World Book Day.
Parents of reception aged children at St Mary's, Prittlewell, CofE Primary School in Southend-on-Sea, were shocked when they discovered that the school was planning to expose their children to transgender propaganda when marking World Book Day on Thursday 2 March.
Christian parents, Stephen Evans and his wife Joanne, said they "immediately knew something was not right." Their view, shared by a number of other parents, was that the book would sow confusion and was not appropriate for impressionable primary school children.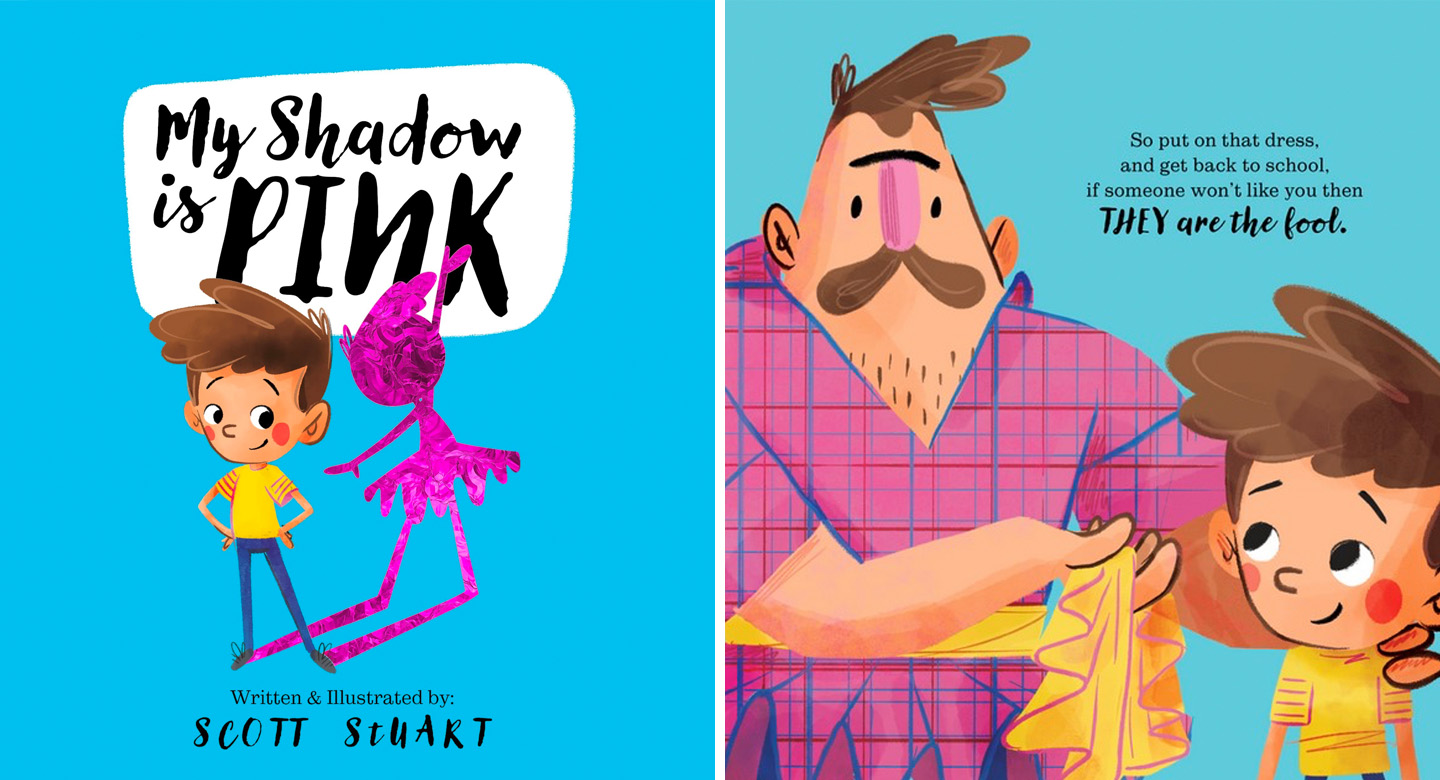 ---
'My Shadow is Pink'
The book, 'My Shadow is Pink' by Scott Stuart, would be used "as a stimulus for the day," parents were told without consultation. Throughout the day, the children "will engage with the story and explore the themes within it." The children were asked to dress up "to reflect how they see their shadow and how they see themselves."
The book promotes gender confusion and the idea that changing what you wear or the things you like to do potentially affects your natal sex. It suggests an inner gender identity that is your true self (the shadows).
The Dad in the book says to his son:
"Your shadow is pink, I see now it's true, it's not just your shadow, it's your innermost you."
The book, which says it is appropriate for three-year-olds, begins to plant the idea that children can be born in the wrong body, which goes against government guidance for schools. It is recommended by extreme LGBT group, Educate & Celebrate, who undertake training in schools with the aim of 'smashing heteronormativity' . This means smashing the traditional view of sex and gender and getting rid of the belief that there are men and women, and that men and women belong together.
Respected policy group on these issues, Transgender Trend, list 'My Shadow is Pink' among books for primary children which "promote the idea that changing appearance through opposite sex clothes and hair length changes natal sex."
The group say in regard to the listed books that, "Telling young children that hairstyles and clothes will change their sex and that other children will then believe it to be true is a cruel deception, playing as it does on a child's developmentally limited understanding of biology. It's a cynical trick to use on children who are at an age when fantasy play is at its most intense."
'No Outsiders'
When Christian parents Stephen and Joanne Evans discovered what their four-year-old child child would be taught, they raised concern and asked permission to withdraw their child for the day. In a letter to the parents, head teacher, Aleishia Lewis, granted permission for withdrawal but also pushed back on the position the parents were taking and refused to change course.
Lewis' Twitter feed reveals that she is a committed campaigner to promoting 'identity' and 'diversity' in early years settings.
She is also this year set to speak at the 'Annual Equity in Education & Society Conference' on the theme of 'faith, class and sexuality' alongside Andrew Moffatt. Moffatt is the head teacher who in 2019 sparked furious parental protests from Muslim parents in Birmingham after he introduced the teaching of LGBT 'No Outsiders' books at Parkfield Primary school.
CofE guidance used against parents
Lewis' letter to the Evans' demonstrates how the CofE's continued departure from biblical teaching on human sexuality will be weaponised against parents who believe we are born male and female and who do not want their children exposed to transgender ideology.
In the letter Lewis said:
"If you would like to find out more about how the Church of England is navigating their growing and developing understanding in relation to Christian teaching and learning about identity, sexuality, relationships and marriage, I would encourage you to read 'Living in Love and Faith'. In the Bishops' response to the years of work that went into 'Living in Love and Faith', they have said that the Church of England "continues to seek to be a church that embodies 'the radical new Christian inclusion'."
She also cited the CofE's 'Valuing All God's Children' guidance for schools which says children as young as five should be affirmed if they want to identify as transgender.
The guidance is repeatedly used against Christian parents, such as Nigel and Sally Rowe and Calvin and Nichola Watts, who raise concern about their children being taught transgender ideology.
Lewis concluded here letter to the Evans' stating:
"Like the Church of England itself, myself and the staff at St. Mary's recognise that the Bible is central to our understanding and living out of the Christian faith and whilst we are united in this belief, we all interpret the Bible differently. Just as the Bishops are encouraging us all as we journey together, at St. Mary's we will continue to build a school community that is focused on learning and listening together: to God, one another and the world around us."
'Transgender propaganda'
Mr Evans and his wife, who have now written to the CofE's chief education officer, Nigel Genders, said: "As soon as we saw what was being planned on the class app, we were shocked and knew something was not right.
"We are not alone in believing that the book is confusing and is not appropriate for four-year-olds, especially in a Christian school. Christian and non-Christian parents have raised concern, but the head teacher has ignored it.
"We want to know where teaching this book will lead next and where the school draw the line. Parents have not been properly consulted and it looks like we and are our children are being placed on a 'woke' conveyor belt.
"The CofE's own guidance being used against us to justify confusing and harmful teaching on gender identity is a slap on the face.
"Parents who believe we are born male and female and who do not want their children exposed to harmful ideology are losing their voice and their rights.
"We want the CofE hierarchy to step in and do more to protect the rights and beliefs of, not just Christian parents, but all parents who do not want their children exposed to transgender propaganda."
Biblical teaching
Andrea Williams, chief executive of Christian Concern, said: "If ever there was a moment in history for those responsible for Church of England schools to wake up and return to biblical teaching it is now. How can anyone think this book is a good idea let alone the church?
"It is another example of the Church of England hierarchy's  lack of confidence in the gospel they are there to promote and which has actually given their schools such outstanding reputation.
"This book, and the many others like it that are being introduced often without parents' knowledge or proper consultation, have no place in primary schools, let alone Christian ones. Christian parents who believe we are born male and female are increasingly being silenced or told that they are 'transphobic' if they do not want their young children to be exposed to harmful and confusing transgender ideology.
"Consistently, the Church's own guidance on these issues is being used to silence parental dissent. This is a travesty which must urgently be resolved."
This article first appeared on the Christian Concern website and is used with permission.